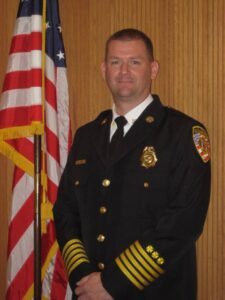 Welcome to the Official website of the Elizabethtown Fire Department. The goal of our website is to provide as much information as possible about our services and to help us maintain an open means of communications within our community. We hope you find we are exceeding your expectations and are proud to be a part of this great community.
Since the delivery of the first fire truck to Elizabethtown back in 1929, the Elizabethtown Fire Department has carried a proud and honorable history of providing excellent service to its citizens as an all-volunteer organization. During those years, members of the department were business owners, community leaders and hardworking citizens who would answer the calls for service when the siren sounded. The mission was accomplished by fire department members who had a passion for public service and the safety and well-being of their community. Over time, as the community's needs changed and the calls for service increased, the department evolved into a combination organization utilizing both career and volunteer staff members to continue to successfully meet the demand for fires, medical emergencies, technical rescues and fire prevention.
The Elizabethtown Fire Department is working hard to ensure we continue the proud service of the generations who served before us through exceptional training, technology upgrades, new equipment and effective staffing levels. Being prepared to quickly respond to and successfully manage emergency incidents continues to be a top priority. The fire department has implemented a Strategic Plan with specific goals aimed at identifying and reducing our community's risks along with lowering the department's insurance rating through the North Carolina Department of Insurance. As we begin another new year, we are excited for the opportunity to serve our citizens as we celebrate not only our accomplishments but our continuing commitment to providing quick response times in order to save lives and reduce property loss.  Deploying trained staff members with the necessary resources quickly, give our citizens the best opportunity for a positive outcome.
As the organizer of the Union Fire Company of Philadelphia in 1736, Benjamin Franklin famously addressed the topic of fire safety and once said, "An ounce of prevention is worth a pound of cure". Even after two hundred and eighty years later, that statement is very true today as we see the major impact of fire prevention in today's society. As our department's Community Risk Reduction Program began, one of our main goals this past year was to initiate a process to reduce the risk of fire and help educate and inform the community on fire prevention and fire safety. Our Community Risk Reduction Program is a process to identify and prioritize local community risks, followed by the strategic implementation of resources associated with emergency responses and fire prevention activities to reduce their occurrence and impact. Initiatives such as annual fire inspections, home safety surveys, smoke alarm installations, fire prevention training and community involvement have been implemented by the fire department.
One of our most significant endeavors is to provide quick response times by implementing innovative technology such as Mobile Data Terminals which provide real time information related to emergency incident locations. The mobile computers receive the emergency dispatch information from the 911 communication center and map the location of the incidents and track our responses in real time to help us reduce our overall response times. A quicker response to an emergency incident with the right resources helps provide for a more positive outcome. The computers also help us to perform pre-incident planning, incident report writing, daily apparatus check offs and equipment inventory's for a more efficient and effective level of service.
Take a look around your neighborhood for the fire department as we are out and about the community helping you to be SAFER. As our environment continues to change, our department and our service will continue to adapt to effectively meet the challenges and needs of our community. I am honored to present our 2017 Annual Report which illustrates our commitment to providing exceptional service and value to our community.
We look forward to exceeding your expectations in 2018 by "Making an I.M.P.A.C.T."!
Respectfully,
Roy N. West
Fire Chief, Elizabethtown Fire Department
401 West Swanzy St.
Elizabethtown, NC 28337
Office: (910) 862-4586
Making an I.M.P.A.C.T.
Doing what's best for our community in THEIR time of need.