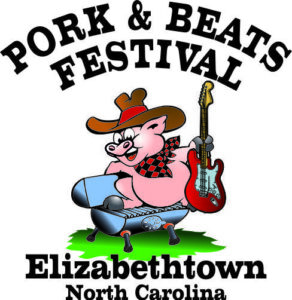 The Pork & Beats Festival is a 2-day celebration of the agricultural heritage of Elizabethtown and Bladen County. As the home to one of the largest pork processing plants in the country, Smithfield Foods, we invite you to taste the delicious barbeque from our world-class competitors while enjoying a variety of local music and vendors.
​FRIDAY, NOVEMBER 5
5 PM: Anything But Pork Food Vendors
5:30 PM: Cape Fear Valley Health presents Sunset Jam Concert # 4 - Bladenboro's own Nick Peavy on the Smithfield Stage.
7 PM: The BBQ Competitors get their pigs and begin to prepare them
7 -10 PM: Cape Fear Valley Health presents Sunset Jam Concert #4 - Country Grass
on the Smithfield Stage
SATURDAY, NOVEMBER 6
8 AM: Barbeque judging

9 AM: Arts, crafts, and other vendors
Car Show
11 AM: BBQ plate sales begin
TBA:  Live Music featuring Blackwater on the Smithfield Stage