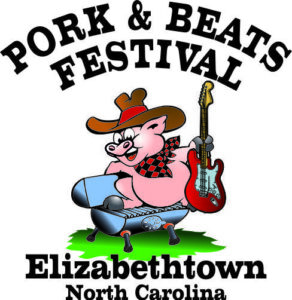 November 4th-5th, 2022
Cape Fear Farmers Market
106 MLK Jr. Dr. Elizabethtown, NC 28337
We invite you to help us make this year's event even more special than past years. This year's event kicks off Friday evening with the start of the cook-off and live music. It continues throughout Saturday with live entertainment, BBQ, music, vendors, great food, and much much more throughout the day. The event concludes Saturday afternoon with a free concert. The best part of all – The Festival is FREE!! So, for sponsors, this means a large turnout, with a happy crowd that is anxious to support those that endorse their community. So, please show your support by choosing one of the sponsorship levels below.
Sponsorship Levels
Whole Hog - $1000 +
Pork Loin - $500 - $900
Ham - $300 - $499
Friend - $25 - $299
Benefits, depending on the sponsorship level, can include: name on sponsorship board at event, recognition on event website and Facebook page, Festival Booth Area (10' x 10'), recognition on the brochure, and recognition on poster advertisements,
Sponsorships are due by August 30, 2022
The Pork Festival Committee Thanks You in Advance for Your Support!
Please make checks payable to "Town of Elizabethtown".
Please Note "Pork and Beats Festival Sponsor" in the memo line and attach the from below.